Uncategorized
9 Tips For Parents To Make Family Moves Easier
Times up and it's time to move, but what about the kids?
Moving out to a new home is stressful enough, even more so if you're moving out with kids tagging along. Whether it's to find a better place to call home or you're relocating for work, some move-outs are just unavoidable.
The stress and pressure you will shoulder will not be limited to how, when, and where you'll move in; you also have to consider the big transition in your family's lives.
Moving out can be life-changing – especially for kids. It's a momentous step for most families that requires your complete and constant attention without any detail to spare.
To make things easier and less painful, we created a checklist to guide you through this big transition. Stick closely and take comfort in this list to ease you and your family in settling for a new life chapter.
Secure The Best Home
When moving out with kids, not all homes would cut it. You have to consider the environment of the neighborhood for you and your kids' safety above all else.
When looking for the best family home, it's best to seek professional help. Conveyancers, such as OwnIt Conveyancing, can provide a list of qualified real estate properties available along the area you'll move into. This will mitigate the tedious task of house search and paperwork you will handle, giving you more time to focus on your other move out requirements.
Schedule and avoid popular moving season
Choosing a good moving date is just as important as choosing your new home's location. To start with, summer is the busiest season for movers and can also be the most expensive. On the other hand, the beginning and the end of each month are the busiest weeks. Companies may also take advantage of the mass moving season by hiring inexperienced laborers to handle any accounts.
If you're trying to save money (in which you should) and are seeking for the best quality of work, book a moving date away from the said days.
Plan, Plan, Plan
Key planning ahead of time is crucial for every fit-out. Estimated three months ahead of the actual event is a great rule of thumb for planning.
Consider that you and your trusted conveyancer have accomplished to lock the deal, it's high time to begin running through your local movers to find which services benefits you the most. Don't forget to also tend the paperwork needed such as the kid's application in moving to a new district, among many.
Map Out and Organize
Being organized not only helps you, well, be organized but it also helps you gain a sense of control. Start your move out approach by scheduling the rooms of your house one at a time. Methodically pack each area in a room and work yourself around it. Blueprint your home and tick off each completed room on papers to keep everything in check. Amidst all the stress, confide on your blueprint to keep yourself on the right track.
Get your boxes right
Choose the right box for packing your items. Invest in good moving boxes to protect delicate items instead of risking them on a flimsy cardboard box that might cause permanent damage. See if your local movers offer cost-effective plastic boxes customers can rent or return.
Labelling
After choosing the right boxes, it's time to label. Labeling your items may sound like an overrated hassle in packing but this will help you once the unpacking begins. All your items will have to reach their owners and their right places after moving in sooner or later. Later on, you will thank these labels for keeping your wit(and belongings) intact.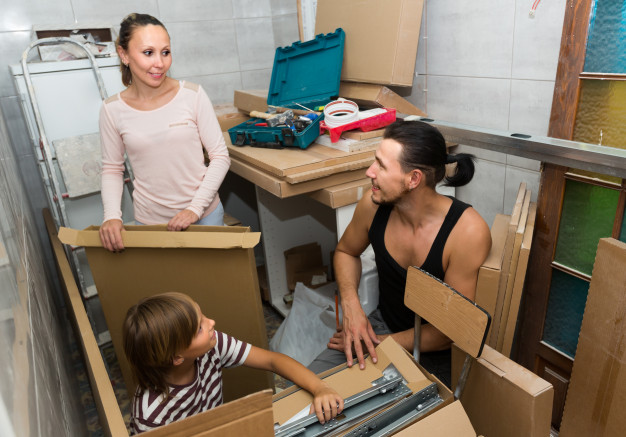 Communicate with your kids
Kids are typically more sensitive than most adults. Forgetting to tell them (rather, choosing not to) that the family is moving can be another problem on its own.
Making it a surprise can't be favorable at times. After all, they will be giving up most of the important parts of their daily lives: friends, school, extra activities, and more.
Get them on the same page quickly once you've made your decision to move. Ease them into the idea of leaving for another home. Even as a parent, you couldn't simply guess how they will react. They could be fearful or hesitant and it will be your duty to approach the situation with a positive outlook. Let them acknowledge the situation before packing their things.
Get The Kids Involved
Moving out shouldn't be a strictly-adult job. With the right supervision, your kids can experience the responsibility of an official move out. Younger kids can box light items and label their personal pieces. Older ones could paint and decorate their new rooms.
Consider this event as a way to bond with your family as you all move to a new residence. Encourage them to pack their belongings but don't expect them to keep track of the transition as it is still your job as an adult.
Remain Calm and Optimistic
A fit-out is generally overwhelming and stressful. There will be a lot of unforeseen challenges along the way but it is also your job as a parent to keep calm and stay optimistic in front of any adversity. Your kids rely on you in many ways than one – so if you relax and think strategically, the children will most likely do the same.
Do you have any other helpful moving tips in mind? Share them by commenting below!