Why Use MiniMovers to Move Your Piano or Pool Table?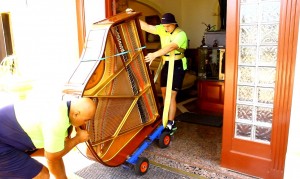 MiniMovers understands that pianos and pool tables are fragile and heavy items. Many people have had some very bad luck when moving big and expensive pieces of furniture, either they have been hurt or the furniture has been damaged. That is why our operators undergo a special Heavy Moving Accreditation before moving them.
Our specially trained movers can transport heavy items with ease giving you peace of mind and ensuring the safety of your precious belongings. We always pride ourselves with the years of expertise and knowledge that we've experienced from the thousands of moves that we've done for more than 30 years.
Call us at 1300 642 900 to get a pool table and piano move quote!
Our Experience
MiniMovers move an average of 4,100 pianos and an average of 1,200 pool tables every year. With this experience comes a written No-Damage Guarantee that if we damage it, we will fix it. MiniMovers has perfected the piano and pool table removals system to make it more efficient for and easy on you, the customer.
We Love Stairs!
MiniMovers has specially trained Hi-Set Heavy Removal Crews. Our piano removalists and pool table removalists go through extra accreditation to ensure the safety of your items when moving up or down stairs.
How Do We Move Pianos?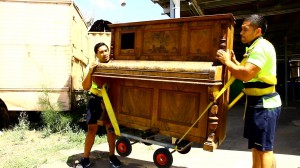 We know that owners often have a sentimental attachment to their pianos, and we have a special team to work with you to make sure that everything is the best it can be, and you have the utmost professionalism from our team on your moving day. Our team always have with them their straps, trolleys, and the other equipment necessary for stairs and the challenges of the location.
MiniMovers has developed a national award-winning training system. This system trains operators to move pianos and pool/billiard tables using various equipment. MiniMovers movers are also taught the proper way to secure heavy items with specialised ties and wraps inside the truck.
Of course, we move Pool Tables!
Our professional pool table movers were properly trained to use the right equipment to move your table because we all know that trying to move it on your own is dangerous and can lead to damages and injuries.
But why stop there?
MiniMovers Piano movers can also move everything else in your house! Piano and Pool Removalists are trained to ensure all your items are safe when they arrive at your new home!